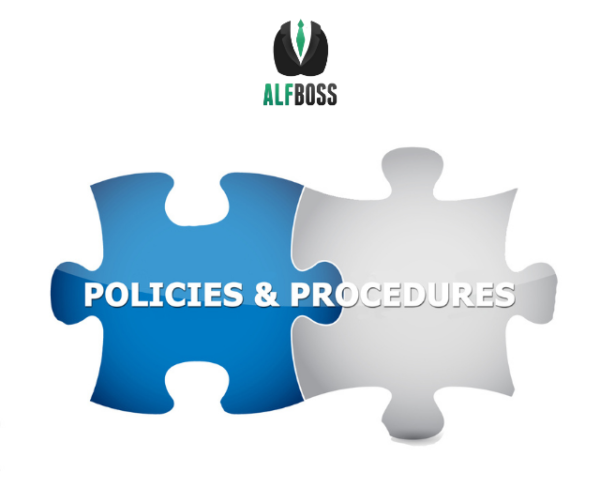 While operating an ARCP in the state of Louisiana, it is not just suggested, but required to have policies and procedures for many operational aspects of your facility. Be sure to check out the following regulation provided by the Department of Health and Hospitals to ensure you are in compliance at all times:
6829. Policy and Procedures
The ARCP shall have written policies and procedures approved by the governing body that, at a minimum, address the following:
confidentiality and security of files;
publicity and marketing;
personnel;
resident's rights;
grievance procedures;
resident's funds;
emergency preparedness planning procedures to include plans for evacuation and sheltering in place;
abuse and neglect;
incidents and accidents;
pre-residency screening and residency criteria and limitations;
medication management;
nursing services;
smoking;
pet policy;
resident responsibilities;
record-keeping;
infection control; and
any other area required in accordance with memorandums issued by the department's Health Standards Section.
Personnel Policies.
An ARCP shall have written personnel policies that include:
a plan for recruitment, screening, orientation, ongoing training, development, supervision, and performance evaluation of staff members;
written job descriptions for each staff position;
policies which provide for staff, upon offer of employment, to have a health assessment as defined by the provider and in accordance with state Sanitary Code;
an employee grievance procedure;
abuse reporting procedures that require all employees to report any incidents of abuse or mistreatment whether that abuse or mistreatment is done by another staff member, a family member, a resident of any other person;
a policy to prevent discrimination;
a policy that addresses the prohibitive use of social media;
a Policy and Procedures for conducting statewide criminal background history checks; and
a policy for checking the Direct Service Worker Registry and documentation of such checks.
Pro Tip:
Have these P&P readily accessible for any person that needs to review
Ensure the appropriate staff is trained and knowledgeable on the P&P that is related to their position. It is also pertinent for the staff to know where to find the information if they do not know it off the top of their head.