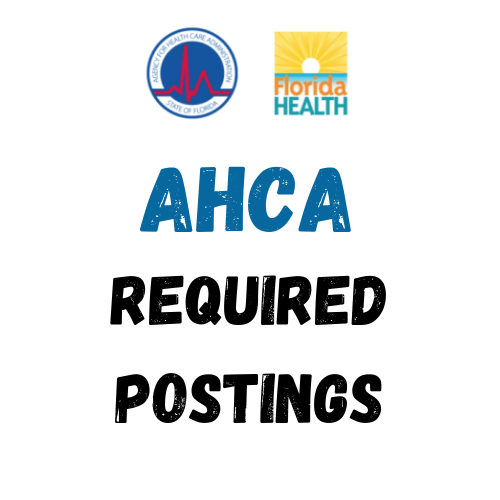 When I conduct mock surveys of facilities, one of the items that I most often find not in compliance is the facility not displaying the required items. This deficiency is one of the easiest to avoid so lets look at the regulations and what needs to be displayed.
The Agency for Healthcare Administration has mandated that certain information must be displayed in a conspicuous location and readily accessible for residents, visitors, and staff alike. Let us take a look at each item AHCA requires facilities to post:
408.804

 

License required; display
(2) A license must be displayed in a conspicuous place readily visible to clients who enter at the address that appears on the license and is valid only in the hands of the licensee to whom it is issued and may not be sold, assigned, or otherwise transferred, voluntarily or involuntarily. The license is valid only for the licensee, provider, and location for which the license is issued.
(3) Any person who knowingly alters, defaces, or falsifies a license certificate issued by the agency, or causes or procures any person to commit such an offense, commits a misdemeanor of the second degree, punishable as provided in s. 775.082 or s. 775.083. Any licensee or provider who displays an altered, defaced, or falsified license certificate is subject to the penalties set forth in s. 408.815 and an administrative fine of $1,000 for each day of illegal display.
An Assisted Living Facility in the state of Florida is required to be licensed by AHCA and follow the rules and regulations they have set. When the facility properly displays its license, it shows compliance with regulations as well as a good standing with the agency. If a facility displays a licensed that is determined to be altered, defaced, or falsified they may be subject to an administrative fine of $1000 per day. 
(6) RESIDENT RIGHTS AND FACILITY PROCEDURES.
(a) A copy of the Resident Bill of Rights as described in section 429.28, F.S., or a summary provided by the Long-Term Care Ombudsman Program must be posted in full view in a freely accessible resident area, and included in the admission package provided pursuant to rule 59A-36.006, F.A.C.
(c) The telephone number for lodging complaints against a facility or facility staff must be posted in full view in a common area accessible to all residents. The telephone numbers are: the Long-Term Care Ombudsman Program, 1(888)831-0404; Disability Rights Florida, 1(800)342-0823; the Agency Consumer Hotline 1(888)419-3456, and the statewide toll-free telephone number of the Florida Abuse Hotline, 1(800)96-ABUSE or 1(800)962-2873. The telephone numbers must be posted in close proximity to a telephone accessible by residents and the text must be a minimum of 14-point font.
(d) Menus must be dated and planned at least 1 week in advance for both regular and therapeutic diets. Residents must be encouraged to participate in menu planning. Planned menus must be conspicuously posted or easily available to residents. Regular and therapeutic menus as served, with substitutions noted before or when the meal is served, must be kept on file in the facility for 6 months.
Plain and simple residents need to know what is on the dining menu! One of the most difficult areas that facilities deal with is the culinary program because of the many moving pieces and dining preferences that residents have. 
(c) Scheduled activities must be available at least 6 days a week for a total of not less than 12 hours per week. Watching television is not an activity for the purpose of meeting the 12 hours per week of scheduled activities unless the television program is a special one-time event of special interest to residents of the facility. A facility whose residents choose to attend day programs conducted at adult day care centers, senior centers, mental health centers, or other day programs may count those attendance hours towards the required 12 hours per week of scheduled activities.

An activities calendar must be posted in common areas where residents normally congregate.
To wrap it up we have five main items that are required to be posted in every facility in the state of Florida. To stay in compliance with AHCA regulations ensure you have the following displayed in a conspicuous area free for residents to view at any time: 
AHCA Facility License

Resident Rights Poster

Telephone numbers for the Long-Term Care Ombudsman Program, Disability Rights Florida, the Agency Consumer Hotline, and the statewide toll-free telephone number of the Florida Abuse Hotline

Dining Menu

Activities Calendar