How to bill for assistive care services
How To Bill Up To $379.75 Extra A Month For Your Medicaid Residents...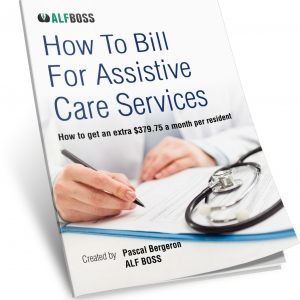 This guide has helped hundreds of ALF owners, managers increase their monthly revenues…
After reading this guide you will learn about extra money avalabile to ALF's and Family Care Homes…
This guide is packed with a explanation about these extra funds avabile and how to obtain them and how to Bill for this hidden secret. I'm certain you will find it to be a great resource. I hope you enjoy!
How Much Money : Learn how you can bill a extra $12.25 per day per medcaid recipent in your facilty….
If you've been in the ALF industry, you have at one point or another felt the finciacial challanges of operating your facility. You need all the help you can get finicially.
It is hard to get resident's in this competive industry.Everyone is after reident's whom have high funds avabile. Many facilities are not aware that as a facility they can bill up to $379.75 a month.
So How do you minimize that awful feeling we all get?
"The Guide Breaks Down The Steps How To Qualify Your Facility And Bill With Easy To Follow Instructions."
Each chapter lays out specific steps needed for you to get access to the extra revenue.
Each chapter is easy to read and put into effect quickly.
BEWARE: Before you purchase the guide be aware of these things…
YOU CAN NOT BILL FOR THIS PROGRAM AND LONG TERM CARE SERVICES AT THE SAME TIME.

MEANING IF A RESIDENT HAS LTC YOU CAN NOT BILL FOR THIS ADDIONAL MONEY!

RESIDENT MUST QUALIFY FOR FULL MEDICAID!
"If you have read the above and understand then this guide is for you and Grab it Now"
Grab Your Copy Of 
How To Bill For Assistive Care Services
Now For Only $20 – LIMITED TIME!

30 Day No Questions Asked Guarantee!
If you are NOT totally satisfied with this guide that It has helped you. I will gladly refund your money no questions asked!