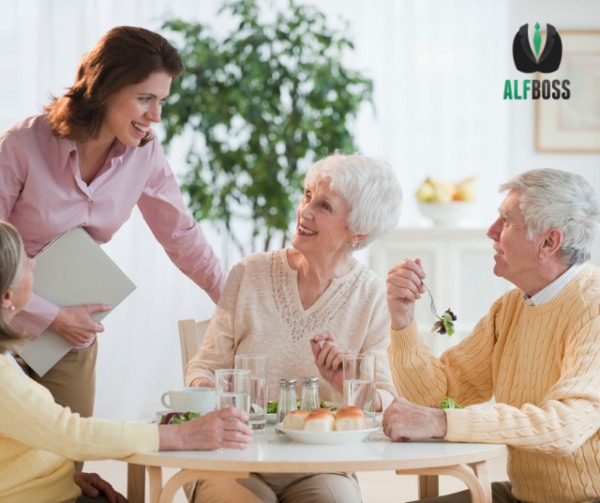 The look of each individual facility may vary from place to place, but the backbone of services that are required to be provided always stay the same. The Maryland Office of Health Care Quality specifically states what each resident is entitled to in the following regulation:
.28 Services.
A. Meals.
(1) The assisted living manager shall ensure that:
(a) A resident is provided three meals in a common dining area and additional snacks during each 24-hour
period, 7 days a week;
(b) Meals and snacks are well-balanced, varied, palatable, properly prepared, and of sufficient quality and
quantity to meet the daily nutritional needs of each resident with specific attention given to the preferences and
needs of each resident;
(c) All food is prepared in accordance with all State and local sanitation and safe food handling requirements;
(d) Food preparation areas are maintained in accordance with all State and local sanitation and safe food
handling requirements; and
(e) Residents have access to snacks or food supplements during the evening hours.
(2) Menus.
(a) Menus shall be written at least 1 week in advance with portion sizes tailored to each resident.
(b) Menus shall be maintained on file, as served, for 2 months.
(c) As part of the licensure approval and renewal process, an applicant shall submit a 4-week menu cycle
with documentation by a licensed dietician or nutritionist that the menus are nutritionally adequate.
(3) Special Diets.
(a) The assisted living program staff shall:
(i) Prepare or arrange for the provision of special diets as ordered by the resident's personal physician or as
needed by the resident's condition; and
(ii) Document special diets in the resident's record.
(b) If the diet is beyond the capability of the program, the resident or the resident's physician shall make
other arrangements for the resident's care, or the program shall discharge the resident.B. Monitoring. The assisted living manager shall ensure that each resident is monitored on a daily basis to ensure that:
(1) The resident's service plan is being properly implemented; and
(2) All adaptive equipment, ambulation devices, and other necessary independent living aids are in proper
working order.
C. Nursing Services. The assisted living manager, in consultation with the delegating nurse, shall ensure that all nursing services are provided consistent with the Nurse Practice Act, Health Occupations Article, Title 10,
Annotated Code of Maryland.
D. Personal Care Services. The assisted living manager shall provide or ensure the provision of all necessary
personal care services, including, but not limited to, the range of assistance needed by a resident to complete the
following activities of daily living:
(1) Eating or being fed;
(2) Personal hygiene, grooming, bathing, and oral hygiene, including brushing teeth, shaving, and combing
hair;
(3) Mobility, transfer, ambulation, and access to the outdoors, when appropriate;
(4) Toileting and incontinence care; and
(5) Dressing in clean, weather-appropriate clothing.
E. Housekeeping Services. The assisted living manager shall ensure that:
(1) Housekeeping services are provided; and
(2) All areas of the facility are maintained in a clean and orderly condition.
F. Health Care and Social Services. The assisted living manager is responsible for facilitating access to any
appropriate health care and social services for the resident as determined in the resident's assessment, including but
not limited to:
(1) Social work services;
(2) Rehabilitative services, including occupational, physical, speech, and audiology therapies;
(3) Home health services;
(4) Hospice services;
(5) Skilled nursing services;
(6) Physician services;
(7) Oral health care;(8) Dietary consultation and services;
(9) Counseling;
(10) Psychiatric services; and
(11) Other specialty health and social work services such as services for residents with cognitive impairment.
G. Social and Spiritual Activities.
(1) The assisted living manager shall provide or arrange appropriate opportunities for socialization, social
interaction, and leisure activities that promote the physical and mental well-being of each resident, including
facilitating access to spiritual and religious activities consistent with the preferences and background of the resident.
(2) To encourage resident participation in social and recreational activities, the assisted living manager shall:
(a) Provide or arrange for transportation to these activities in accordance with the resident's service plan; and
(b) Assist a resident with communication, interpersonal, and social skills, including managing difficult
behaviors in accordance with the resident's service plan.
Top Takeaways:
• An ALF must provide A. Meals.
As many operators of ALFs are aware, the culinary program can be the bane of your existence. Food quality or the lack thereof is one of the most common complaints from residents and families. The dietary program is a difficult arena because you are balancing so many different things. There is the health code for restaurants, resident's personal food preferences, and the operational aspect of providing those meals. Ask your residents what they would like to see on the menu. This will drastically improve the satisfaction of your foodservice program if residents are giving input into their food choices
• An ALF must provide: D. Assistance with activities of daily living
One of the most common reasons why a person may move into an Assisted Living Facility is the fact that they need assistance with their activities of daily living. These ADLs may include tasks such as; assistance with using the restroom, brushing their teeth, getting dressed for the day, or even being tucked in for a night's sleep. That is where we come in our job is to make our residents feel as independent as possible while providing this delicate care for things they either do not want to do or tasks they cannot perform