FREE ACCESS OFFER EXPIRES IN:
Here's What You're Gaining With The Staff File Compliance Helper
Using the Staff Compliance File Helper is like having your own personal assistant in your office.
Who's sole full-time purpose in life is dedicated to making sure your staff files meet AHCA compliance … at all times PERIOD.
You get to spend your time on other things …while your staff files will always be up to date!
It's like literally having an AHCA Staff regulation EXPERT in your corner …looking out for you and helping you stay compliant.
With this tool now available, There are no more excuses why Staff files make up 35% of ALL AHCA DEFICIENCIES…ABSOLUTELY NO EXCUSES!
Here's just a fraction of what you're getting:

AHCA COMPLIANCE HELP
 BE ASSURED THAT YOUR STAFF FILES ARE ALWAYS UP TO DATE AND CONTAIN THE REQUIRED AHCA ITEMS IN THEM!

AUTOMATION…… SET IT AND FORGET IT
THE STAFF HELPER WORKS AUTOMATICALLY. WHEN ITEMS IN YOUR STAFF FILES ARE NOT IN THE FILE OR ARE ABOUT TO BE EXPIRED THE STAFF HELPER WILL AUTOMATICALLY ALERT AND REMIND YOU TO OBTAIN THE ITEMS.

QUICK EASY ACCESS
YOU CAN GET ACCESS TO YOUR STAFF FILE INFORMATION ANYWHERE ANYTIME. YOU CAN ACCESS THEM WITH YOUR PC, SMART PHONE AND TABLET.

SAVE TIME AND MONEY!
THE STAFF COMPLIANCE HELPER WILL SAVE YOU TONS OF TIME. NO MORE AUDITING STAFF FILES TO IDENTIFY ITEMS THAT ARE MISSING. NO MORE TIME SPENT ON AUDITING STAFF FILES TO FIND OUT WHO NEEDS TO OBTAIN NEW IN-SERVICES. THE STAFF HELPER WILL TAKE CARE OF ALL OF THOSE TIME-CONSUMING TASK!

EASILY PRINT LIST
WITH THE STAFF HELPER, YOU CAN EASILY PRINT A LIST OF STAFF WHO NEED TO TAKE A SPECIFIC IN-SERVICES.

CREATE IN-SERVICE LIST
EASILY CREATE A FLYER OF ALL STAFF MEMBERS THAT NEED TO ATTEND AN UPCOMING IN-SERVICE. JUST ENTER THE DATE TIME AND LOCATION OF THE UPCOMING IN-SERVICE AND THE STAFF HELPER WILL ADD THE NAMES OF THE STAFF WHO NEED TO ATTEND!
We're proud to support 400+ facilities in their AHCA compliance success

Lana Kagen
VIZCAYA / Administrator</p
ALF Boss has become my go to tool for keeping up with staff trainings. I love its ease of use and especially the in- service expiration date tracking features…nothing else in the market comes close!

Astrid Vellln
Serenity Villa ALF | Owner/Administrator
AIF Boss was easy to setup. And easy to get started.I'm very happy with the product. It Simplifies my job saves me lot's of time. I highly recommend it!

Gilda Dentico
THE RESIDENCE AT DANIA BEACH | Administrator
I'm not tech savy, so I was hesitant to try it at my facility. But the results from ALF Boss speak for themselves. My staff files are always up to date which has resulted in zero deficiencies. My only regret is that I didn't start using ALF Boss sooner. If you run a facility, then I highly recommend you start using ALF Boss.
Yes,

I Feel This FREE Staff File Compliance Helper Would Definitely Benefit My Facility
I Want To Try It!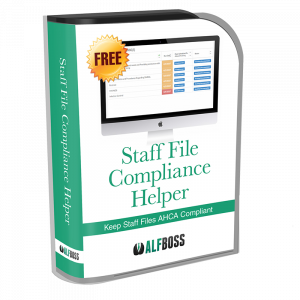 FREE ACCESS OFFER EXPIRES IN: