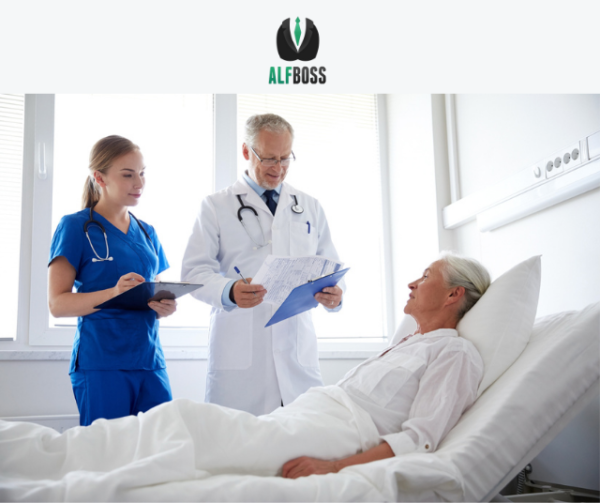 I get it, you probably have seen 6 home health care reps by the end of your day every day. They drop off their pens and leave information about how they can help your residents. Have you ever thought about how truly working with an interdisciplinary team can make a huge difference in the health and wellness of your residents? The truth is they are a great tool to use to support your staff and keep your residents out of the hospital! Check out the following regulation provided by CCLD for how to be compliant when using home health agencies:
87609 ALLOWABLE HEALTH CONDITIONS AND THE USE OF HOME 87609 HEALTH AGENCIES
(a) A licensee shall be permitted to accept or retain persons who have a health condition(s) that requires incidental medical services including but not limited to, the conditions specified in Section 87612, Restricted Health Conditions.
(b) Incidental medical care may be provided to residents through a licensed home health agency provided the following conditions are met:
(1) The licensee is in substantial compliance with the requirements of Health and Safety Code Sections 1569-1569.87, and of Chapter 8, Division 6, of Title 22, CCR, governing Residential Care Facilities for the Elderly.
(2) The licensee provides the supportive care and supervision needed to meet the needs of the resident receiving home health care.
(3) The licensee informs the home health agency of any duties the regulations prohibit facility staff from performing, and of any regulations that address the resident's specific condition(s).
(4) The licensee and home health agency agree in writing on the responsibilities of the home health agency, and those of the licensee in caring for the resident's medical condition(s).
(A) The written agreement shall reflect the services, frequency, and duration of care.
(B) The written agreement shall include day and evening contact information for the home health agency, and the method of communication between the agency and the facility, which may include verbal contact, electronic mail, or logbook.
(C) The written agreement shall be signed by the licensee or licensee representative, and representative of the home health agency, and placed in the resident's file.
(c) The use of home health agencies to care for a resident's medical condition(s) does not expand the scope of care and supervision that the licensee is required to provide.