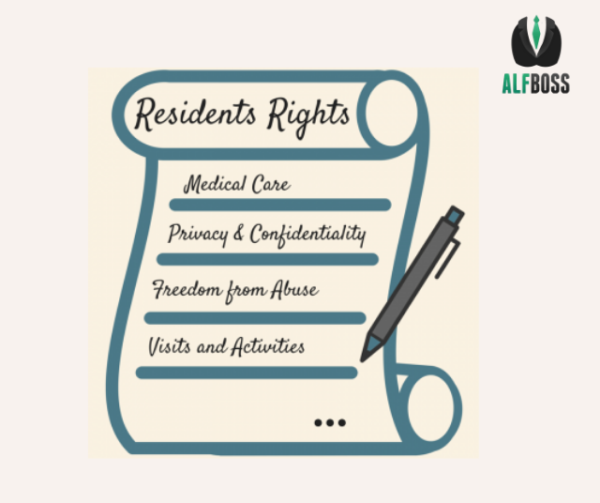 When a person chooses to move into an Assisted Living Facility in the state of Louisiana they are entitled to certain rights as a resident of your facility. These rights are extremely important and designed to protect the dignity of our seniors and allow them to continue to be productive and respected citizens of the state.
ARCPs shall have a written policy on resident rights and shall post and distribute a copy of those rights. In addition to the basic civil and legal rights enjoyed by other adults, residents shall have the rights listed below. ARCP policies and procedures must be in compliance with these rights. Residents shall:
be encouraged in the exercise of their civil or legal rights, benefits, or privileges guaranteed by the Constitution of the United States and the Constitution of the State of Louisiana including the right to be free of discrimination or segregation based upon race, sex, handicap, religion, creed, national background or ancestry with respect to residency;
be treated as individuals in a manner that supports their dignity;
be assured choice and privacy and the opportunity to act autonomously, take risks to enhance independence, and share responsibility for decisions;
participate and have family participate, if desired, in the planning of activities and services;
receive care and services that are adequate, appropriate, and in compliance with contractual terms of residency, relevant federal and state laws, rules, and regulations and shall include the right to refuse such care and services;
receive upon moving in, and during his or her stay, a written statement of the services provided by the ARCP and the charges for these services;
be free from mental, emotional, and physical abuse and neglect, from chemical or physical restraints, and from financial exploitation and misappropriation of property;
have records and other information about the resident kept confidential and released only with the written consent of the resident or resident's representative or as required by law;
expect and receive a prompt response regarding requests (service, information, etc.) from the director and/or staff;
have the choice to contract with a third-party provider for ancillary services for medically related care (e.g., physician, pharmacist, therapy, podiatry, hospice,) and other services necessary as long as the resident remains in compliance with the contractual terms of residency;
be free to receive visitors of their choice without restriction except where the residents share bedrooms or apartments: a. where residents do share bedrooms or apartments, reasonable restrictions that provide for the health, safety, and privacy of other residents shall be allowed;
manage their personal funds unless this authority has been delegated to the ARCP or to a third party by the resident, the resident's legal representative, or an agency that has the authority to grant representative payee status or fiscal management authority to a third party;
be notified, along with their representative in writing by the ARCP when the ARCP's license status is modified, suspended, revoked, or denied renewal and to be informed of the basis of the action;
have choices about participation in community activities and in preferred activities, whether they are part of the formal activities program or self-directed;
Share a room with a spouse or other consenting adult if they so choose;
voice grievances and suggest changes in policies and services to staff, advocates, or outside representatives without fear of restraint, interference, coercion, discrimination, or reprisal and the ARCP shall make prompt efforts to address grievances including with respect to the behavior of other residents;
remain in their personal living area unless a change in the area is related to resident preference or to conditions stipulated in their contract, or necessitated by situations or incidents that create hazardous conditions in the living area;
live in a physical environment that ensures their physical and emotional security and well-being;
bring service animals into the ARCP;
bring pets into the ARCP if allowed by the ARCP and kept in accordance with the policies of the ARCP;
contact their advocates as provided by law;
be fully informed of all residents' rights and all rules governing resident conduct and responsibilities;
be informed of how to lodge a complaint with the Health Standards Section, the Office of Civil Rights, the Americans with Disabilities Act, the Office of the State Ombudsman, and the Advocacy Center. Contact information including telephone numbers and addresses for these entities shall be posted in a prominent location that is easily accessible to residents; and
have the right to privacy in his/her apartment or room(s), including the right to have:
a closed apartment or room door(s); and
the ARCP personnel knock before entering the apartment or room(s) and not enter without the resident's consent, except in case of an emergency or unless medically contraindicated.
Publicity. No resident shall be photographed or recorded without the resident's prior informed, written consent.
Such consent cannot be made a condition for joining, remaining in, or participating fully in the activities of the ARCP.
Consent agreements shall clearly notify the resident of his/her rights under this regulation and shall specify precisely what use is to be made of the photograph or recordings. Residents are free to revoke such agreements at any time, either orally or in writing.
All photographs and recordings shall be used in a way that respects the dignity and confidentiality of the resident. Recordings from security cameras placed in common areas of the building are not subject to publicity requirements for consent and shall not be used for publicity purposes.
Each resident shall be fully informed of their rights and responsibilities, as evidenced by a written acknowledgment, prior to or at the time of occupancy and when changes occur. Each resident's file shall contain a copy of the written acknowledgment, which shall be signed and dated by the director and the resident and/or the resident's representative, if applicable.
The ARCP shall prominently post the grievance procedure, resident's rights, and abuse and neglect procedures in an area accessible to all residents.
As an operator of an ARCP, you will need to fully embrace the rights your residents have and ensure the facility is doing everything in its power to support the unique rights of each individual. Violating these rights has been known to be the subject of many complaint investigations and you can be assured that DHH will be overly present in your facility if they fear you are not upholding the duty you have to give residents their rights. It is suggested to form a "resident council"- a monthly meeting where residents can freely share their concerns related to resident rights and other aspects of the facility. You should be present for this meeting and use the feedback to make direct changes related to the subject matter.