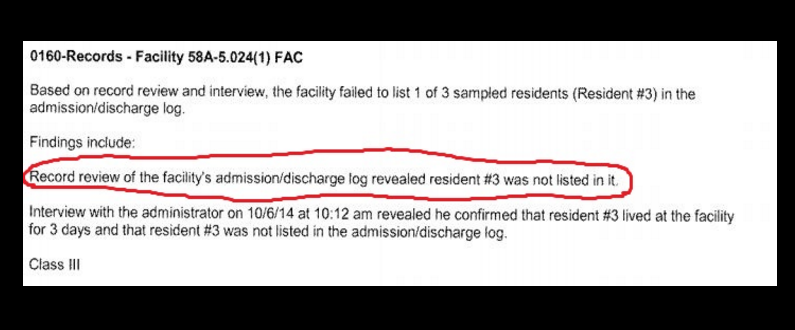 They admission discharge log can easily be overlooked sometimes when we admit a new resident.
That's why it's important to have all the steps required for a successfully completed admission and/or discharge to be written on a checklist and check the completed items off.
Regulation
(1) FACILITY RECORDS. Facility records must include:
(b) An up-to-date admission and discharge log listing the names of all residents and each resident ' s:
1. Date of admission, the facility or place from which the resident was admitted, and if applicable, a notation indicating that the resident was admitted with a stage 2 pressure sore
2. Date of discharge, the reason for discharge, and identification of the facility or home address to which the resident was discharged. Readmission of a resident to the facility after discharge requires a new entry in the log. The discharge of a resident is not required if the facility is holding a bed for a resident who is out of the facility but intending to return pursuant to Rule 58A-5.025, F.A.C. If the resident dies while in the care of the facility, the log must indicate the date of death.


1. Make a Checklist of all the required tasks to be done when a new resident is admitted or discharged. Make sure entering the resident's information into your Admission and Discharge Log is on that list)Make it a part of your admission/discharge routine to use the check-off list. 
2. Do an audit of your Admission and Discharge log and verify that is accurate
Admission Discharge Log Example