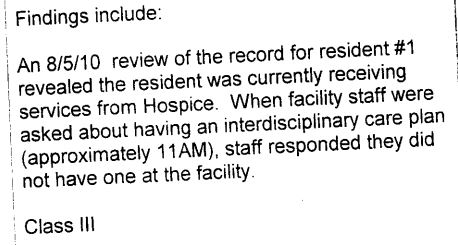 As an Assisted living facility you must make sure that any residents on hospice have an Interdisciplinary Care Plan on file.
Regulation
Title Records – Resident Statute or Rule 58A-5.024(3) FAC Type Rule ST – A0162 – Records – Resident (3) RESIDENT RECORDS.
Resident records must be maintained on the premises and include:


Review all your hospice resident's and make sure you can locate their Interdisciplinary Care Plan. You can often find it in the resident's hospice chart. You can ask the hospice staff to provide you a copy. Below is an example of a plan.