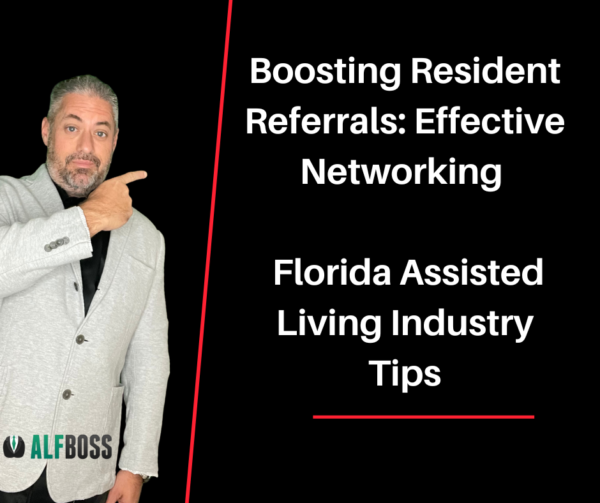 Are you looking to increase resident referrals for your assisted living community? Networking is a MUST! It can be a powerful strategy to connect with professionals in the industry and generate more referrals. Here are some tips to help you effectively network and boost resident referrals:
Build relationships with local healthcare professionals: Forge strong relationships with local healthcare professionals, such as physicians, nurses, and social workers. Attend their events, join their professional organizations, and engage in meaningful conversations. Show genuine interest in their work and how your assisted living community can meet the needs of their patients. This can lead to referrals when they encounter seniors who require assisted living services.


Attend industry conferences and events: Look for conferences and events related to the senior care and assisted living industry. These gatherings can provide you with opportunities to network with other professionals, learn about industry trends, and exchange ideas. Be sure to have your business cards ready and engage in meaningful conversations to build connections.


Utilize online platforms: Social media and online platforms can also be effective tools for networking in the assisted living industry. Join relevant groups, forums, and online communities to connect with other professionals in the field. Share valuable insights, ask questions, and engage in discussions to build your network and establish yourself as a knowledgeable professional.


Collaborate with local senior service providers: Partner with local senior service providers, such as home health agencies, geriatric care managers, and elder law attorneys. Collaborate on educational seminars, workshops, or community events. This can help you build relationships with professionals who are in direct contact with seniors and their families, leading to potential referrals.


Provide excellent service to current residents and families: Your current residents and their families can be your best advocates for generating referrals. Provide exceptional care, prioritize resident satisfaction, and maintain open lines of communication with families. Satisfied residents and families are more likely to refer their friends, acquaintances, or colleagues to your community.


Be genuine and authentic: Authenticity is key in networking. Be genuine in your interactions with other professionals, and focus on building meaningful relationships rather than just trying to get referrals. Show interest in others, listen attentively, and be respectful of their opinions and perspectives. Authentic connections are more likely to lead to long-term relationships and referrals.


Follow up and express gratitude: After networking events,meetings and when someone does refer to you. Be sure to follow up with the people you connected with. Send them personalized thank-you notes or emails expressing your appreciation for their time and insights. This shows professionalism and gratitude, and keeps the lines of communication open for potential referrals in the future.


Remember, networking is about building relationships, trust, and credibility in the industry. It takes time and effort, but by implementing these tips, you can effectively network in the assisted living industry and boost resident referrals for your community. Happy networking!