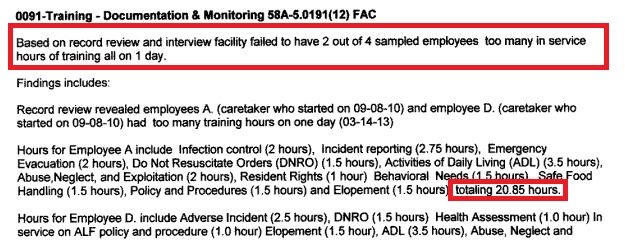 When you get a new staff member it is important to take the required time to thoroughly go over the in-services and materials with them. This ensures that they understand it. It is time-consuming, but it is required.
It is common practice in many facilities to print out a bunch of in service documents and hand them out to new staff members, asking them to read the material and instructing them to sign it, in order to save time and comply with AHCA!
The Problem with this
The staff members then go through the packets, sign it, and turn the packets back in within minutes, not having read the material. If they have not read the material, then they have also not learned anything. If they are questioned by an AHCA surveyor regarding the in-services, they will have no idea what the surveyor is talking about.
AHCA is getting smart and is going around and interviewing staff members regarding the in-services. If they feel something is not right, they will investigate further and eventually the staff person will admit that they never really went over the material. If this happens, you will be cited and asked to retrain the staff members.
As for the example above the AHCA surveyor observed the staff member had signed all the in-services within the same day and calculated the hours. It was not possible that the staff member had taken over 20 hours of in-services in one day. Another red flag was these were all in-services mostly due within the newly hired time frame, and the staff person was hired 9-8-10 and did the in-services on 3-14-13. This means the in-services took place more than two years later.


To avoid these issues, make sure your facility is actually providing real services that allow the proper time for new staff to learn and understand the material.